Reviews from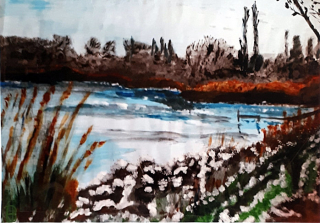 2016 much snow harbour sea frozen

3 total reviews

Comment from

liseworks

I really like this. Great ti see some place in different seasons. Love your technique. Great to look at. Great work. Hope to see more of your work

Comment Written 19-Feb-2020
---
reply by the author on 20-Feb-2020
Comment from
Jody brunson
I love this picture it's well painted and has good motion. I also like the touch of the snow in the painting. I also love the techniques that was used in this painting. Good job keep it up
Comment Written 17-Feb-2020
---
reply by the author on 17-Feb-2020
Thank you your comments much appreciated
Comment from
alaskapat
Well created scene from the harbor with the ice flows, I like the way the ice is shown in the water and in the plants in foreground, nice colors in the water and in the grasses that grow at waters edge. I like the tree reaching in from top right and the two tall trees just to the left of it. This is well rendered , it's a nice arrangement . Well chosen and applied colors. Nice work! Best wishes to you in the contest!
Comment Written 17-Feb-2020
---
reply by the author on 17-Feb-2020
Thank you. This got caught in my attic flood last week and when I dried it out I lost some of the right side which is the tree you refer to, it had a trunk, so sad....