Reviews from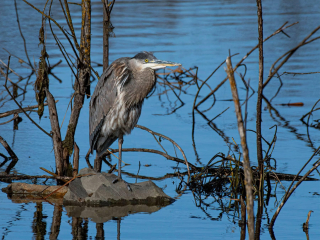 Great Blue Heron watching over the oond

3 total reviews

Comment from

Sange

Great title and fantastic capture of this Breeding Great Blue Heron. Hope you get to see where they nest to see the wee ones. They usually choose a pond tree in the water to build a nest. A few times I have seen them build a nest in a Slash pine that was near the water.

I like the pose, the sharp focus, controlled white balance and the gorgeous blue water.

Fine work D :)

Comment Written 01-Feb-2022
---
reply by the author on 01-Feb-2022
Thanks Sandra. I haven't seen them nesting near this pond. The pond is right next to some walking trails so I'm not sure they would be comfortable nesting that close to foot traffic. But...i'll keep looking for them. :)
Comment from
Sean T Phelan
That's a nice looking picture of this popular bird,my friend!
It's a nicely-presented photograph that's very enjoyable to look at!
'Good Show'!
~Sean
. . .
Comment Written 31-Jan-2022
---
reply by the author on 01-Feb-2022
reply by Sean T Phelan on 01-Feb-2022
Comment from
Barbara L.
Great photo of this heron! I like the pose. The sharpness and detail are excellent. The beautiful blue color of the water makes a great background. Very nicely done!
Comment Written 31-Jan-2022
---
reply by the author on 01-Feb-2022