Reviews from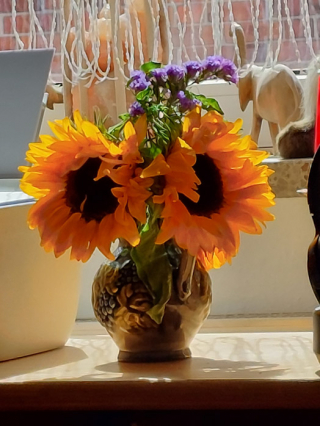 Sunflowers in vase

3 total reviews

Comment from

alaskapat

Hi Brenda, I can see how the sunflowers make you think of an owl the two sunflower centers actually look like owl eyes , once you see it , you can't unsee it. I love sunflowers and agree with you , they don't do very well cut and in vases.

Focus is a bit soft on the flowers, I love them and I love the vase. Here there is too much in view, it's cluttered . Everything up above the flowers here is a distraction , drawing the eye off of your subject. This would have greater impact if you were to place the vase of flowers in front of a solid colored wall or backdrop, leaving only the vase of flowers in frame. Always consider your background, it's important .

I do appreciate your effort !

Comment Written 04-Aug-2022
---
reply by the author on 04-Aug-2022
Thank you Pat for an honest review and helpful. I knew the background was busy, it was a casual shot as the sun was on them, also the shadows were interesting and it looked like an owl lol... . I took quite a few angles so may be I will use this to experiment on how to reduce background noise. Also I take up the softness too.
Comment from
Regina E.H-Ariel
Wow, this picture is again special as thought that this was a creative section as these flowers are in such a special section that with an animal for me, so this is for sure excellent again, and now I have to tell you that these flower combinations are super with a special blue section above and the down ones are also attractive as they have yellow and black content that it is special in all section, so congratulations again, my dear friend, xoxo
Comment Written 04-Aug-2022
---
reply by the author on 04-Aug-2022
Thank you forbyourcreview and insights which I am always delighted with
reply by Regina E.H-Ariel on 04-Aug-2022
You are always very welcome, xoxo
Comment from
liseworks
Yes lol,, they look like owl eyes, I like sunflowers and especially in a bouquet, although I find some can last awhile in a vase, this is stunning with the yellow, love the vase, your background is a little busy but the pretty flowers are where my focus lies
Comment Written 04-Aug-2022
---
reply by the author on 04-Aug-2022
Thank you for your review and remarks. Yes I knew the background was disturbing the real focus but I am hoping to play around with this to learn how to get background dimmed. Still a mystery to me.
reply by liseworks on 05-Aug-2022
oh, you and me both, I also cant figure out how to do that lol