Profile Thoughts
FanArtReview:

Our new trophies are custom designed. That includes names and ranking information engraved by laser (right onto the trophy itself). If you won a trophy you should receive it by Monday of next week.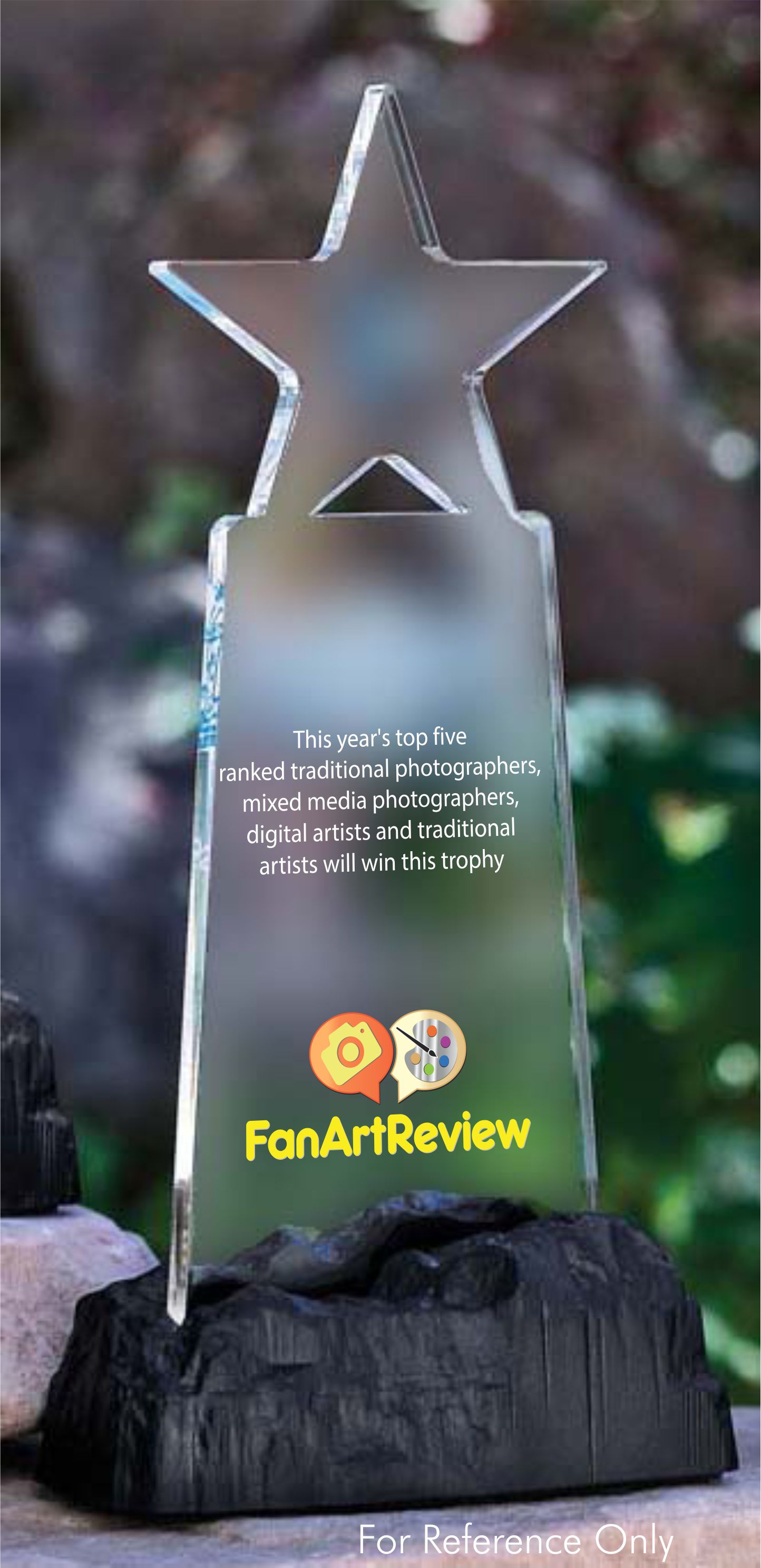 February 8, 2018 at 5:33PM

Minnie Kaye: That is so lovely. If only......

February 9, 2018 at 7:43PM
L5208904: Those are very nice
February 18, 2018 at 1:51AM
booklotto: Very sweet design!
February 19, 2018 at 7:29PM
Pink Flutters: I love everything about this trophy; and wouldn't change a thing. Now that's saying something!
February 20, 2018 at 7:42AM
RJ Schiller: I want one for my den. It's great....RJ

March 31, 2018 at 5:07PM
swcarhaulr: Thanks so much. I am speechless. I appreciate all the comments & votes.
Again...Thankyou all so much
May 10, 2018 at 11:38AM
CorbyLinda: Wow I can only wish .....
May 31, 2018 at 6:27PM
Silvia Labbate: Wow! That is very honorable! I love the design!
June 9, 2018 at 3:30PM
Sarojini: Wow..that would be awesome

July 26, 2018 at 7:45AM
booklotto: Happy Birthday FAR!
September 10, 2018 at 12:57PM
Amanda_2: Wow! What an accomplishment it would be to win this trophy!!!
September 30, 2018 at 7:13PM
Dana Day: I hope I win. Lol
October 22, 2018 at 9:17AM
Dana Day: Awesome
November 1, 2018 at 12:43PM
Dana Day: I?d love to would absolutely love to win and have this piece in my home to view as a reminder of what I should be doing. Great design....
November 16, 2018 at 5:57PM
Christine18: Super! Grateful for this opportunity!!
November 26, 2018 at 11:03AM
FanArtReview:
Thank you for a wonderful 2017!
We had a recording breaking number of posts and reviews
Reviews In 2017
Reviews Written: 159,027 or 436 per day
Replies: 191,620
Number of reviewers: 527


What We Posted
Photos Posted: 16,253
Everything Else: 5,436



December 30, 2017 at 5:32PM

booklotto: Congrats to all here!
January 3, 2018 at 4:19PM
HannahAvila: Hi, my balance went down a few dollars, but I didn?t spend that much. I was saving it for upcoming entries.
January 11, 2018 at 3:43PM
swcarhaulr: Thanks so much. I appreciate all the comments & votes.
Again...Thank you all so much
May 10, 2018 at 11:39AM
Regina E.H-Ariel: Beautiful Design and more artistic....
May 12, 2018 at 11:43PM
Regina E.H-Ariel: Beautiful Design and more artistic....
May 12, 2018 at 11:43PM
Silvia Labbate: What a gorgeous trophy!! Beautifully made!!!
May 24, 2018 at 12:29PM